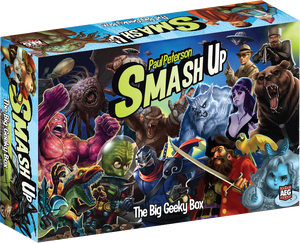 My What a Smashing Box...

Smash Up has grown up! After many expansions we heard the cries of the masses who sought a better way for holding Smash Up cards and we have answered with the Smash Up: The Big Geeky Box! Not only are we giving you a box that will hold all of your current cards, it will hold many expansions to come, and we even include dividers for all the decks as well as those spiffy foam bricks that will keep your cards steady.
- The Big Geeky Box box description
The Big Geeky Box is the 5th Smash Up set. It contains 1 new faction and 2 new bases.
Combined with all previous sets, there are 21 factions and 42 bases, which make 210 possible pairs of factions.
Since the box of the original Core Set could only accommodate the first 3 sets (up through The Obligatory Cthulhu Set), the Big Geeky Box was designed to accommodate all the existing sets thus far with much more space for future expansions. The box has three long troughs that can hold dozens of decks each. The set also comes with dividers that name every faction made thus far and for Monster Smash which was released later (and dividers for Bases and Madness decks). To accommodate partly full troughs, the box also comes with 6 foam inserts that can be positioned anywhere along the troughs and will remain in place.
This set did not contain a rulebook or any rules changes.
This set and its faction were created for the 2014 edition of the International TableTop Day. Those who attended the event had the opportunity to get a coupon for a free Big Geeky Box set.
In other languages
Edit
| Language | Name |
| --- | --- |
| French | La Grosse Boite pour Geek |
| German | Geek Edition |
| Italian | Il Grande Geek |